Prof. Dr. Ing. Rozenn DAHYOT
Professor of Computer Science
I am Professor of Computer Science at Maynooth University (Ireland) in the Hamilton Institute, and a PI in the SFI ADAPT Research Centre for Digital Content Technology that focuses on developing next generation digital technologies and regroups researchers accross several leading Irish Higher Education Institutions. I led the effort for organising the European Signal Processing Conference EUSIPCO2021 in Dublin in 2021 (August 23-27th 2021). I am a member of IEEE, ACM, EURASIP and IPRCS.
Before joining Maynooth University, I have been (Assistant then Associate) Professor in Statistics (2008-2021), Lecturer in Computer Science (2005-2008) in the School of Computer Science and Statistics in Trinity College Dublin (Ireland). Before that, I had positions as Research Fellow on European projects (FP5, FP6) with Trinity College Dublin and Cambridge University UK (2002-2005), and Research Assistant in Laboratoire des Ponts et Chaussées Strasbourg in France (1998-2001).
I have served as secretary (2008-2014) and president (2014-2020) of the Irish Pattern Recognition and Classification Society (IPRCS) that organizes the yearly Irish Machine Vision and Image Processing Conference (ImVIP). I was the IPRCS representative on the International Association for Pattern Recognition (IAPR) (2014-2020).
My research interests are in between the traditional fields of Electronic and electrical engineering (digital signal processing), Computer Science (computer vision & graphics), artificial intelligence (data mining, machine learning) and Mathematics (Statistics, Information theory, decision theory, functional analysis).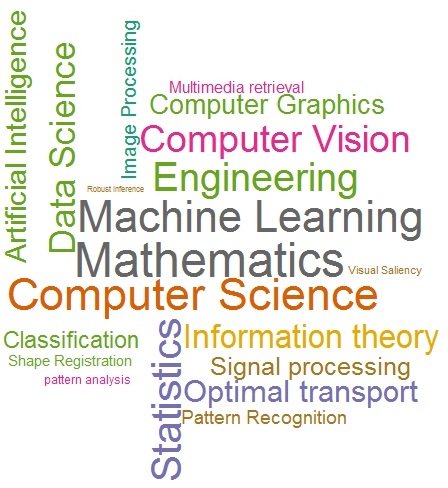 Joining my team. when funded positions become available in my team, these are advertised (e.g. at Adapt centre) and interviews are organised with the selected candidates. Students and researchers with their own fundings are also welcome to apply at any time (e.g. for a research visits, or study for PhD). For applying for a PhD, minimum qualifications are a primary Degree or equivalent (e.g. MSc) in Mathematics, Statistics, machine learning, computer science, or related fields. Maths and communications skills (in English, writing + speaking) are essential as well as good programming skills (e.g. matlab, python, R). Providing evidence of these skills when applying is very welcome (e.g. CV, github project links, past project reports written in English, etc.). Maynooth University information: Key term dates.
Opportunities: